This according to Wikipedia : "As of April 2007 there were about 340 Whooping Cranes living in the wild, and another 145 living in captivity".
We are very lucky in Saskatchewan to play host to a few of these magnificent rare birds every year.
For the past couple of years I've been fortunate to see small groups of this Crane ( the tallest bird in North America) as they pass through our province and graze in the crop fields feeding mainly on waste grain.
Yesterday I had another chance to see this bird. There were 3 reported in the area of St.Denis.
This hilly region seems to be a favorite spot for this bird and its smaller cousin the Sandhill Crane and also many Geese.
Friends of ours were already at the location and kindly showed us the exact spot the birds were feeding, saving us the time of scanning the horizon for 3 white 'blobs'.
The Cranes were a good distance away but still gave us excellent views through binoculars and scopes and although the heat haze didn't help for photos much, I still had to get a record of the days sightings and couldn't go home without getting something with the camera.
I went for a more ' scenic ' look to these photos seeing as the birds were so far away. This captures some of the background landscape , and in one picture, the rolling hills :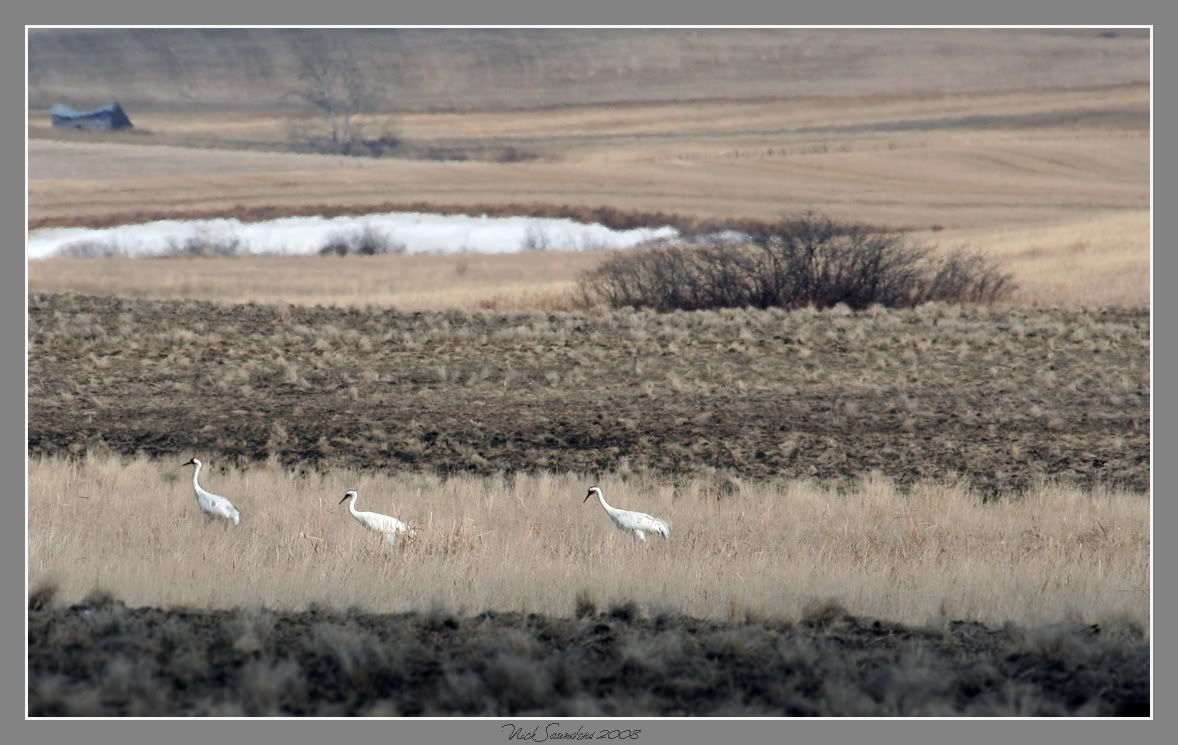 Other birds seen on the day were as follows :
American Crow - 3
Common Raven - 1
Canada Goose - 300+
Cackling Goose - 10
Snow Goose - 400+
Greater White-fronted Goose - 14
Sandhill Crane - 100
Whooping Crane - 3
Red-tailed Hawk - 3
American Kestrel - 1
Merlin - 1
Great Horned Owl - 2
American Wigeon - 4
Canvasback - 2
Gadwall - 2
Mallard - 12
Northern Pintail - 10
Northern Shoveler - 8
American Coot - 1
Horned Lark - 20
Lapland Longspur - 50
European Starling - 5
Bohemian Waxwing - 45
American Robin - 5
Ring-billed Gull - 12
Rock Dove - 2
House Sparrow - 10